Users can open RDP Port to allow remote access from their desktop laptops and even with mobile phones to your windows computer. Windows comes with a remote desktop client that is able to access the entire Windows Desktop experience remotely. Especially it is helpful for those people who deal with a lot of computers which are at remote locations. One of our followers asked about windows RDP port as well as how to configure it securely.
You will need to allow port forwarding in your router when connecting to your Computer from outside of your network. By default, the remote desktop port is 3389 for windows environment which must be forwarded to the Computer to which you wish to connect. Now you will be able to connect from any network from globe using the public IP address of your network in Remote Desktop Communication.
Steps to change default RDP port as you like:
Go to Search > Type regedit in the Search box and run as Administrator. HKEY_LOCAL_MACHINE\System\CurrentControlSet\Control\Terminal Server\WinStations\RDP-Tcp\PortNumber
Navigate to the Registry Subkey.
Click Edit > Choose Modify, then select Decimal.
Type in the new port number from 1001 to 254535, then press OK.
Close the registry editor, and restart your computer.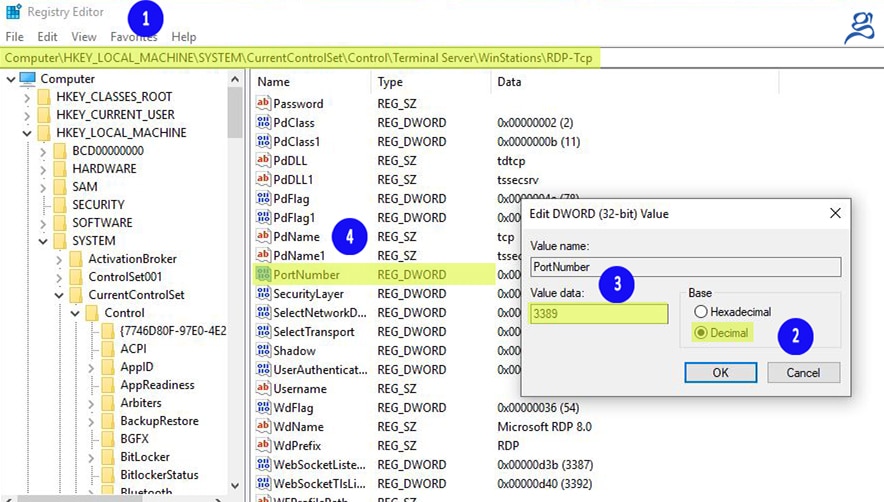 Now go to CanYouSeeMe.org check whether port 3389 (replace with your changed port) is available or not. CanYouSeeMe.org is a free resource that allows remote verification of a ports number is whether open or blocked.
Now you need to use the new changed port number whenever you wish to connect to those computers. I hope this guide will be useful and you can now monitor your remote desktop the way you want. Firewall blocks and filters incoming and outgoing traffic so make sure to configure to allow port number for uninterrupted connections.
I hope this guide will be useful and you can now delete your Facebook account and enjoy the way you want. Would you have something to say about this article? Or if I have any questions left, don't hesitate to drop your comment on Facebook, Twitter, or our LinkedIn Community below and share it with us.