Do you ever feel stuck for your personal or business purpose in the .np domain registration?
If you've been looking for registration of the .np domain, I'm sure you've come across the advice to go with Mercantile Communications. Although there are several companies on the market that promise free registration of the official .np domain, Mercantile is the only official .np domain registration company. I think many of us now know the official registrar of the .np domain. However, if you struggle to find the easiest way to register your own .np domain, this guide will become your bible.
Learn how to register a .np domain for free
As I mentioned earlier, with large font touts of free .np domain registration, some people are easily trapped. But you may never understand what I'm trying to convey until you begin to register your own .np domain.
Sometimes I find it clearer for me to take that first step towards anything. I think it works the same way for you as well. So, let's dive into the procedure of registration.
Click here or Go to the Link: Nepal's official .np Domain Registration
Once you click, the screen could look something like this:
Then, Click on the User Login Button, so you could signup and further proceed with your request. A similar screen as below should have appeared.
Now, Click on the 'Create User' button in the blue color.
Fill up all the information and then click the 'Create User' button on the bottom.
Once, you click on the create account button, then you will receive this text. Now, check your registered email account to activate your account.
Congratulations!!!
Now you've created your account with the Mercantile Communications.
Once, the account has been created you now need to login to your account. Now, you're provided with a domain name availability search bar, where you can search for the domain name you want to register.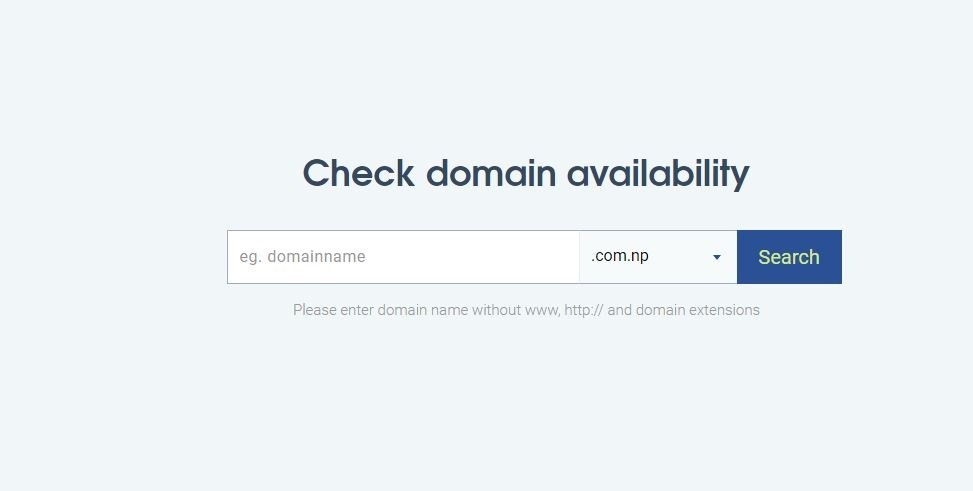 Note: The domain name should be an exact match, abbreviation or acronym of the registrant's name of trademark otherwise the request will be rejected.
Now type the domain name you want to register and look for the domain status to confirm if your desired domain name is available for .np domain registration. If it is available, click on the 'Register Now' button shown below. If not, then go with the other domain name that is available and follow the same procedure.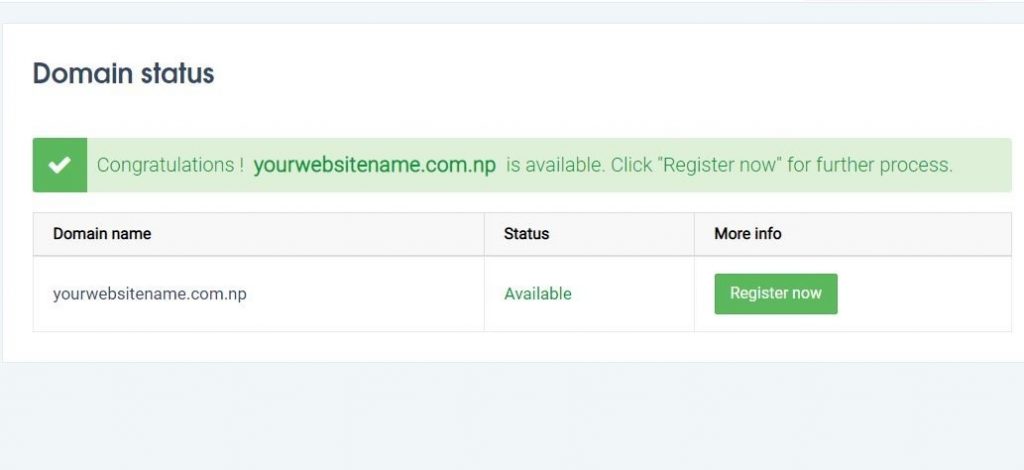 Now, you are provided with the Domain Request form that looks something like this.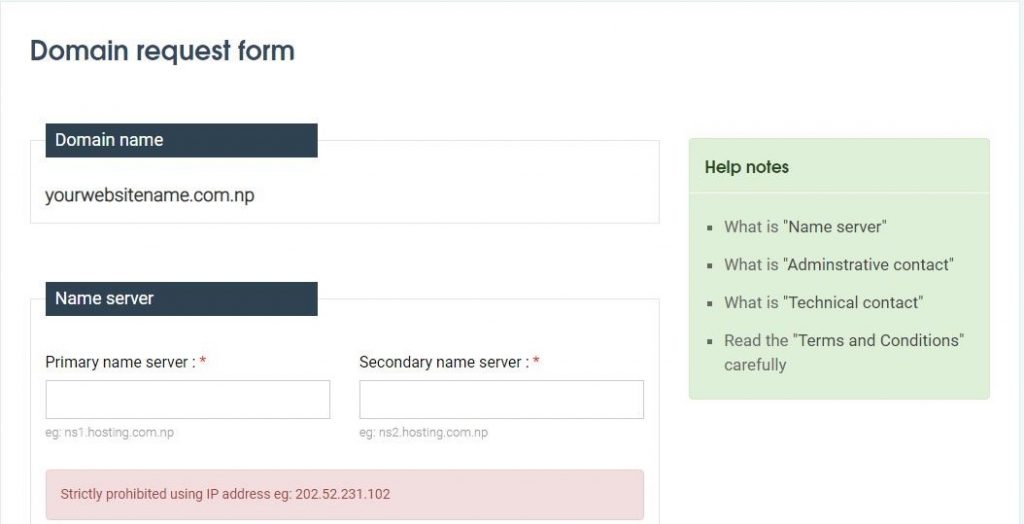 Note: Be aware of using the IP address in the Name server. You just need to input the nameserver in the format that your hosting provider gives you to point to the same domain. I'm sure you're wondering – is it that compulsory to buy hosting from the mercantile company only? Not necessarily. Why? Because there are several strongly reputed hosting provider companies in Nepal offering you the best value with many affordable prices.
Once you have set up the perfect name server for hosting your site, let's now go through the form to fill in the administrative contact and technical contact boxes for further details. Make sure that your details match the details of your citizenship so fill in carefully. Click on the' Save and Continue' button after completion.
Finally, to verify the person or company/organization domain, you must submit the required documents. The size of all the documents scanned for submission should not exceed 800 KB. Now click on the option ' Save image.'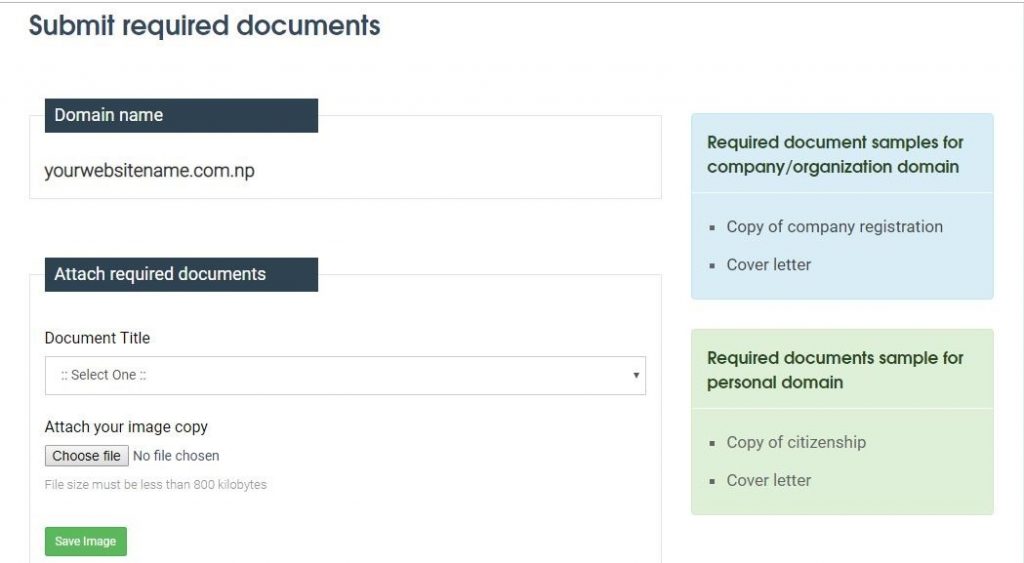 Whether you are willing to go for a personal domain or a company/organization domain, cover letters are vital. I'll give you the cover letter sample below that can help you create one. So, let's dive into it without more ado.
Cover letter for .np domain registration
Curious on how to write a cover letter on your own?
Fret not, I'm here to provide you with simple but compelling sample cover letter guide to help you write one fast. Do follow it and create one.
Here's the quick guide: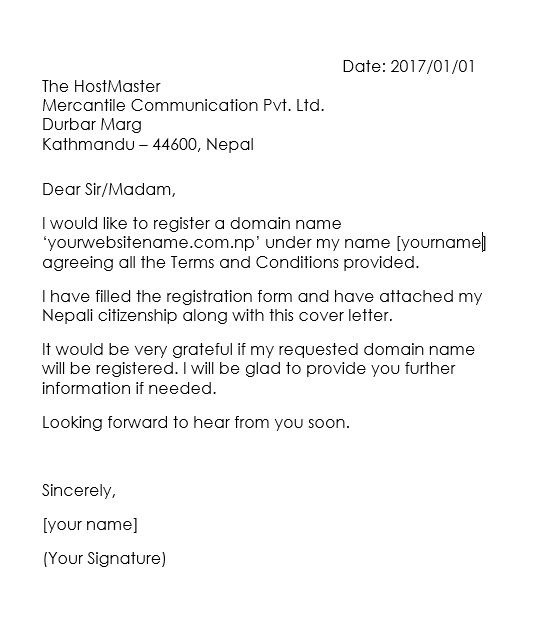 What to do after .np Domain Registration for Free
If after registering your domain name with a merchant, you are not sure what to do, let me give you some useful insights into how to live your website.
The expense of setting up and maintaining a website can add up quickly if the best level of service is not delivered as expected, so picking up the best free web hosting provider for your needs can help cut costs.
Looking for a reliable free web hosting in Nepal?
AGM Webhosting is my highly recommended choice among several free web hosting providers in Nepal. Why? I have tasted the hosting services of different companies. In fact, nearly half of the so-called top web hosting company does not deliver the services they promise. But that's not to say you can't trust anyone to go with. You can't go wrong with AGM's quality services, top-notch technical support, and their affordable prices as far as my own experience is concerned. They also provide free.com domain registration on reseller hosting's annual subscription. What could be the best news to save enormous costs?
Believe it or not, most people ask me to recommend to live their website as a reliable hosting company. But so far, with no second thoughts, it's the only company I can highly rely on. Don't take my words, you can inquire on your own too.