The latest leaked photos show Googles coming phone breed Pixel. This year google might be doing away with the Nexus line up because there are no updates and we haven't heard anything about Nexus. This year they are rather focused on bringing new line up of phones with some killer design and features.
Related post: https://geekynepal.com/2016/09/03/google-dumping-nexus-creating-new-breed-phones-called-pixel/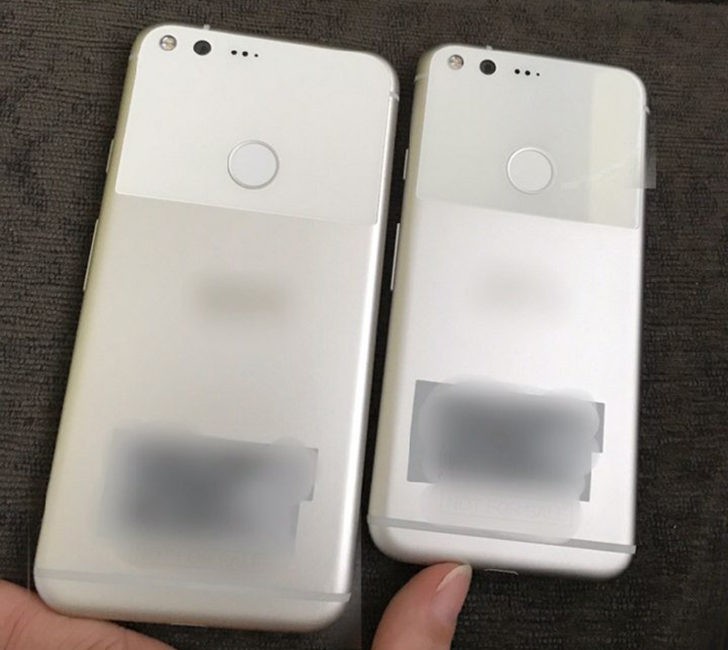 The leaked picture shows both the phones in Aluminium build. On the back of the phone upper half seems to be glass, and the Fingerprint reader is also up there. The lower half has some IDs and markings which are blurred. The front has the same design that we have seen before, the bigger Pixel XL will have a 5.5-inch screen and the smaller Pixel will be 5-inches. The chin of the device is blurred and that might be the branding of the phone.
These phones will be manufactured by HTC, but it seems all the distribution works will be done by Google themselves. Pricing may be higher than thought previously. According to Android Police, a trusted source told them that the smaller Pixel phone will start at $649, and the bigger Pixel XL could cost even more.
There might be three color options for the Pixels blue, aluminum, and black. The announcement is said to be happening on October 4th, and Google is already sending invites for the event.