When you open your Removal drive and you find out all your files has been converted into shortcuts. Probability is your drive is infected with the virus. Hopefully, you can easily recover all the data, that data is present there but in the hidden state. Here we have brought a simple step that you can follow to recover your files.
Connect the infected drive
Connect the USB or SD card that is infected by the shortcut virus to your computer. Open 'File Explorer' and note down the drives letter of the infected device. In my case, it's drive 'X'. Don't open any folder or file that is infected or your computer might also be infected.
Open Command Prompt
Press 'Windows key'  and 'R' at the same time, Run will show up now type 'Cmd' on the Run box and press 'Enter'. Now Command Prompt will open. Which looks like this.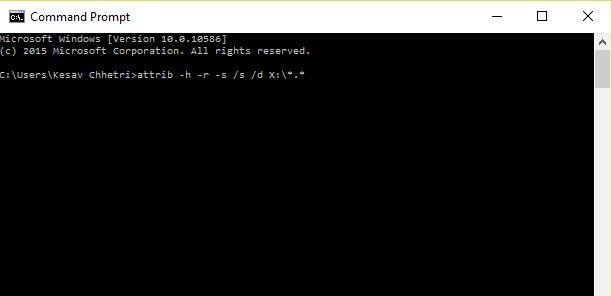 Type attrib -h -r -s /s /d X:\*.* and press Enter. Don't forget to change the X with your drive letter that you noted. Congratulations your files has successfully recovered.
This process may take a while, depending on how much data is on the drive. This will unhide the files, remove any read-only attributes, and remove the shortcuts. Now you can access the files and folder that were hidden.